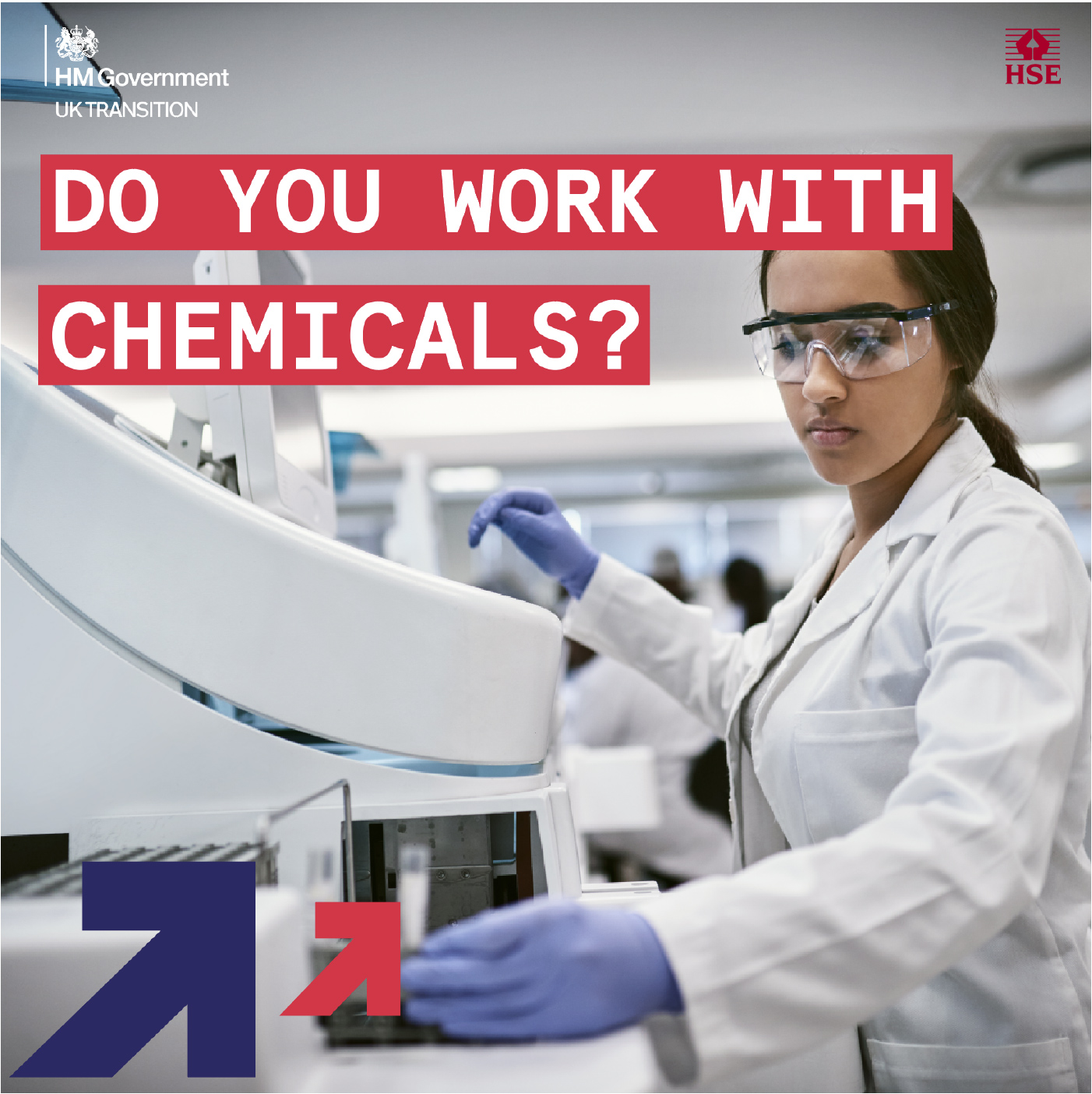 After UK Transition: Working with Chemicals - Introduction to the series
In this introductory episode, we discuss the main changes to how chemicals will be regulated in the UK from 1 January 2021 and how HSE can help your business prepare for the end of the transition period. We also discuss the different areas and topics that will be covered during the series.
Visit our website for further information and detailed guidance on the chemical regimes. 
*The information in this podcast was correct at time of publication.
Podcast Transcription.  
Welcome to a new series of podcasts from the Health and Safety Executive aimed at helping businesses that work with chemicals.  Everything you need to know before and after the end of the transition period. 
My name is Mick Ord and over the next few months, I'll be your guide through some of the changes which are happening as a result of the UK leaving the European Union.  
We'll be releasing a difference episode of our podcast every month or so until the New Year and we'll be hearing from a range of experts about what you need to do to make sure the transition goes as smoothly as possible for you and that if you hit any obstacles, we'll point you in the right direction so you get the right answer as soon as possible.  In short, we're here to help you so subscribe to our podcast, especially if you're a newcomer to podcasts.  Believe me it's dead easy. 
The information we'll be giving you is important for over 200,000 businesses involved in the export and import of chemicals throughout the UK from the big multi-nationals to the small one man, or one women business.  
Joining me today is someone who's been living and breathing the changes in the legislation for the chemicals sector over the past 18 months and she's going to talk to us about why we are launching this podcast and a little bit more detail about what we can expect over the next six months or so.  Kayleigh Roberts is from the HSE and she works in the External Communications and Stakeholder Engagement Team, bit of a mouthful but - Hi Kayleigh, welcome.  
Kayleigh: 
Hi Mick, thanks for having me. 
Mick:  Our pleasure. First of all, why has the HSE decided to launch this podcast because it's not something that you've done before is it? 
Kayleigh: 
That's right Mick this is not something the HSE has done before and in order to help businesses help prepare themselves get ready for the end of the transition period, we want to make sure that we are making as much information available in as many digestible forms as we can to help businesses understand the duties and obligations that they may need to undertake from the 1st, January, 2021.  So although it isn't something we've ever done before, last year we did actually record a series of videos, however, owing to the current public health crisis, we believe that this is a more efficient way to provide information this time round.  
Mick: 
Yes, that makes sense. Now as I mentioned in the introduction, you've been living and breathing the transition changes over the past year or so, so can you just give us an idea about what you and your colleagues have been doing and what it's been like being at the centre of these historical changes in legislation? 
Kayleigh: 
Yes, as you mentioned, this is something that has never happened before and it's something that we've never had to take into account before so in order to make sure that we've got the legislation in place for businesses to take the duties and actions that they need to from the 1st, January, 2021 when the transition period ends, we've had colleagues whose primary role is to work on developing that legislation, to amend the previous statutory instruments that would have come in place in 2019 to take into account the Northern Ireland protocol.  So this has been a joint effort of policy and operational colleagues across HSE and we've all been working together to make sure that that legislation is laid in Parliament to make sure it's in place for the 1st, January, 2021. 
We've also had colleagues working on future trade agreements between the European Union and also the rest of the world and that has involved a lot of trade and negotiation talks which are still ongoing as I speak.  We've also had colleagues on the team working on governance, peer reviews and the strategy aspects and also, finally, the team that I work with the communications team, we're making sure that everything that is taking place and the preparations that are being made for the 1st of January, 2021, are able to be communicated effectively to the stakeholders within the chemicals sector.  
It's been a mammoth effort, it really, really has. It's brought together teams from other government departments and also been a mammoth effort within HSE itself.   
There've been different teams within divisions within HSE which have been working together which may not necessarily have worked so closely before, it's been a totally different way of working. 
Mick: 
It's interesting you say that because we all watch about the EU and the Government, we all watch that on the news and we don't really realise what's going on behind the scenes.  I think it is important that people do know that a lot of people have put a lot of work into this to make it smooth for the businesses.  Now the stuff that we are going to talk about in the podcast today and over the next few months, is it applicable to businesses whether there's a deal or no deal with the EU? 
Kayleigh: 
I think it is important to note Mick when you refer to deal or no deal is that the UK left the European Union on the 31st, January 2020 with a deal and in line with that deal, we entered a transition period which will end on the 31st, December 2020 so what is going on at this moment in time is preparations for either a negotiated future trade agreement or a non-negotiated future trade agreement, we don't actually use the terms deal and no deal anymore  and I know that that is something which stakeholders within the sector may find a little bit odd, if you will, to get their mind around because we've been using the term deal or no deal for a great deal of time but it is important to note that that is not the message which is going out anymore. 
Mick: 
OK, I will not be using that term again, don't worry!  Which sectors in particular are you keen to reach over the next few months? 
Kayleigh: 
HSE is involved directly in the regulation of biocides, we are also directly involved in the regulation for classification, labelling and packaging of chemicals and also the export and import of hazardous chemicals which is known as PIC, or Prior Informed Consent and HSE also has involvement in the Pesticides Regulation and also the REACH Regulation, so what we want to do is to target businesses who work in those five chemicals regimes.  We want to target them to make sure they are aware of the duties and obligations that they may need to undertake.   
Some of them might not have needed to have done before or may have not needed to have considered before so we want to make sure that they've got all the necessary information that they need to prepare for the 1st of January, 2021. 
Mick:  
And what are the timescales and deadlines for businesses who'll be affected by the changes then Kayleigh? 
Kayleigh: 
So, across the five regimes there are actually different timescales that need to be taken into consideration to ensure that legal obligations are met and one thing which I would recommend is visiting the HSE website, we've got a lot of information with regard to deadlines that are in place. Like I mentioned, they do vary because what we've put in place as part of the regulation is something that we refer to as transitional arrangements and those transitional arrangements basically give businesses different amounts of time to comply with different parts of the regulations to make sure that they are safely using chemicals within the market in Great Britain from the 1st of January, 2021.  
Mick: 
Right, so all the information they require either is on, or will be on the HSE website? 
Kayleigh: 
Yes, there is a current version of guidance on the HSE website for all five of the chemicals regimes which I mentioned before and that will be constantly reviewed and updated as and when as and when information is available.   We've also got a really widely subscribed e-bulletin service and that's got over 220,000 members you know, that is a really well subscribed service. And we will make sure that any guidance changes or anything like that are also advertised via that route as well so that businesses can be aware that these changes are being made and that there's new guidance available.   
Mick: 
Have many businesses already been in touch with HSE with queries?  What are the areas they are particularly concerned about? 
Kayleigh: 
Concerns vary widely.  You know I think a lot of businesses now are just wanting to start to make the necessary preparations that they can, which is why in part we are doing these podcasts.  We are going to have subject matter experts for all of the regimes that are going to come and discuss the necessary preparations that businesses need to take by regime.  I think businesses are just wanting to make sure that they are adequately prepared for anything that they need to do in the immediate term, after the 1st, January,2021. But also, things that they may need to start preparing for now.  There may be duties and obligations which that come in six months after the end of the transition period that they may need to start taking preparations for now. 
Mick: 
What might be the consequences if businesses put off engaging with the HSE for another day because say they are too busy dealing with the everyday stresses and strains of running their own business? 
Kayleigh: 
I think that one of the main things that we should take into consideration is that HSE is there for businesses, we operate some helpdesk functions, we've got the available guidance, we are also producing further communications products  like this podcast, we are doing events across government and also HSE led events and what I think is important is that businesses who are within these chemicals sectors start to engage with us as soon as possible because there may be some duties and obligations that they need to undertake after the transition period ends, that they were not actually aware would be relevant to them.  They may not have had to do them before, they may not have had to consider them before, so in order to make sure that these businesses have got enough time to make these necessary preparations, I would advise any business who is involved in the regulations if they've not engaged with HSE or they do have any questions for us to get in touch as soon as they can.  Like I said we've got helpdesk functions across all of the chemicals regimes where you've got access to experts within their field who will able to help and guide you and give you any advice that you need. 
Mick: 
Brilliant.  Now if someone hits a brick wall when they log on to the HSE website and maybe can't find the information or guidance they need, what should they do? 
Kayleigh: 
I would recommend contacting the helpdesk which as I mentioned, operates by regime.  I believe these helpdesk email addresses are actually going to be part of the bio for this podcast, so they will be readily available for stakeholders to actually copy and paste and get in contact with HSE directly that way. 
Mick:  
Smashing. Now, remind us once again, briefly if you can, Kayleigh of what areas we can expect to hear about over the coming months in these podcasts. 
Kayleigh: 
In the coming months we are going to have subject matter experts available for all of the five regimes that HSE has got regulatory responsibility for to give the information, the duties and obligations, you know the legal side of things that businesses need to make sure that they are considering when they are making preparations for the end of the transition period.  Those subject matter experts are going to be there to go through in further detail all of the transitional arrangements, when things need to be acted on and how they can do that as well so how they can make data submissions to the HSE, or how they can engage with HSE directly. 
Mick:    
Remind us again how we log on to the HSE website and especially how people listening can subscribe to the bulletin.  
Kayleigh: 
So, the HSE website can be found via any search engine.  If you search HSE chemicals you will be taken to the landing page which has got all of the information and all of the regime guidance pages, also in addition to that the e-bulletin subscription box is always at the bottom of all of our pages and businesses can put information into that, their email address or their businesses email address where they can sign up and select the regimes that they wish to get updates on via the e-bulletin service.  Like I said, that's really widely subscribed and we do get feedback from stakeholders that is actually a really valuable tool, an alert tool if you will and that's how we intend to use it this time round like I mentioned, to advertise events, guidance updates and also we will be using it and also advertise these podcasts.  
Mick: 
Smashing, many thanks Kayleigh.  That was really, really helpful.  Now we may be hearing from you again later in the podcast series, but in the meantime, I would strongly urge you to take a look at the website as Kayleigh explained, subscribe to the e-bulletin, and of course, this podcast.   And if you are particularly concerned about the changes in the various processes and the forms that you will have to fill in, remember, we're here to help and support you with information whenever we can.  None of us likes change, but believe me, with a bit of guidance and support from us at the HSE, we will do everything in our powers to make sure that you've got the right information as we move into 2021.   My name's Mick Ord, thank you for listening, speak soon.